Book Review: Design is a Job
July 5, 2012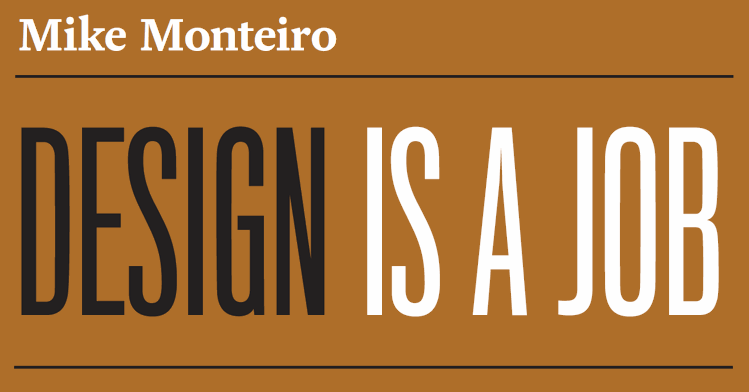 I graduated from college with a degree in secondary biology education, my head full of potential and naivety. I submitted my name to a collection of substitute teaching programs. The calls started coming in. I became an employed teacher, if only for a day at a time.
I had no leverage. I had no real world experience. I had no understanding of the nuance behind teaching. All I had was book smarts, eagerness and a degree.
I was nearly eaten alive.
Teaching is more than simply developing blue-sky solutions for educating tomorrow's leaders. It's a job – a real job, that comes with real issues and real subtlety. I knew what to teach them. But I barely knew how to teach them. I didn't know how to stand up for my lessons in a room of middle school kids. I didn't know how to maneuver complicated classroom politics. I didn't know how to take on the teeming masses of disgruntled parents.
I was prepared to teach, but I wasn't prepared for the job.
The Job Within Our Careers
There are thousands of books about what it takes to learn the skills needed for our careers – the art and craft and promotion – but precious few about what it takes to understand the job that lies beneath. We know what to do, and why to do it, but we don't learn how to push forward on a practical level.
Mike Montiero's Design is a Job is one of those precious few. This isn't a book about design. THIS IS NOT A BOOK ABOUT DESIGN. This is a book about handling interpersonal relationships, administrative details, promotion and support, lawyers, presenting your findings, getting paid, getting feedback, working with the right people. Everything you'd love to know when starting a new career or new business, but learn only through mistakes.
The design industry serves as the backdrop for the book – it's the direction from which Montiero speaks, and the mistakes herein are his, made under the guise of "web design" – but this is a framework for all creative services. Go ahead. Swap out "Design" for "Your Service Field." This book could have been called Content Strategy is a Job or .NET Development is a Job or Advertising For GMC Dealers is a Job.
Honestly, it could have been called Learning From My Mistakes. The mistake of underestimating your leverage. The mistake of not consulting a lawyer. The mistake of hiring the wrong employee, or of hiding from networking, or of being afraid you'll be outed as a hack.
We've elevated creative services to a duel, with each side firing shots until both are out of bullets, the project finally able to move forward. In reality, service is a partnership. When I present findings, or consult with clients, it's imperative that I do so with respect and leverage, understanding that I don't know their job as well as I know mine and vice versa.
We still draw lines in the sand. Montiero challenges us to rub them away and become better partners. Which means listening better, and structuring more.
The Book You'd Expect
It's really easy to pigeonhole Montiero as a dick. And while trolling conservatives and rooting for the Phillies may not be the most defensible methods of personal expression, there's one thing you can never challenge Montiero on: his spine. It's there. It manifests in moments of honesty, when mistakes can be both acknowledged and built upon.
This is where Design is a Job differs from a book like, say, Rework, which at times pushed a bombastic and contrarian agenda of non-conformity. Montiero instead offers a refreshing and honest look into the mistakes that we'd just as soon not admit. It's refreshing, to say the least. It's a reflection of a person who truly loves his job – who tolerates mistakes, but not excuses.
We aren't struggling artists. We aren't lost writers. We aren't poets or luminaries.
Design is a Job reminds us that, indeed, we participate in a craft. We're content strategists. We're information architects. We do these things because we love them. More than that, we do them for the satisfaction of a job well done. For solving problems. For taking our unique abilities to write and organize and affect organizational change and putting them to work.
Content strategy is a job. Doing that job well requires some simple but often forgotten rules. Rules that are often hard to pull off.
A bunch of those rules are in this book. So, though I'm four months behind in recommending it, you should probably just shut up and read it already.